Your boudoir session is more than just a photography shoot. It is a transformative experience like no other that reveals your sexiest and most confident you, and will give you images that you (and he) will treasure for years.
An important part of preparing for your boudoir session is selecting pieces that make you feel sexy, fit perfectly, and boost your confidence.
Today I want to talk about the best way to highlight your legs during your boudoir session.
Stockings and garters are the perfect combination of femininity and sex appeal. Stay-up thigh highs are great for every day use without a garter, but can pinch into your thighs and not look as polished as stockings with garters.
Garters can be found attached to lingerie such as corsets or skirted panties, or on a garter belt for a vintage look.
Black stockings are classic while nude stockings are more subtle, but both colors lengthen the look of your legs. Cuban style stockings have a seam down the back for a fantastic vintage look that encourages the eye up and down your curves.
Fishnets provide amazing contouring for curvy calves, thighs and hips, and come in stockings or pantyhose.
A good pair of high heels help make your legs more shapely by engaging all of your leg muscles. If you're concerned about being able to walk in tall heels, know that you won't be standing in them for long during the session and you won't have to walk very far.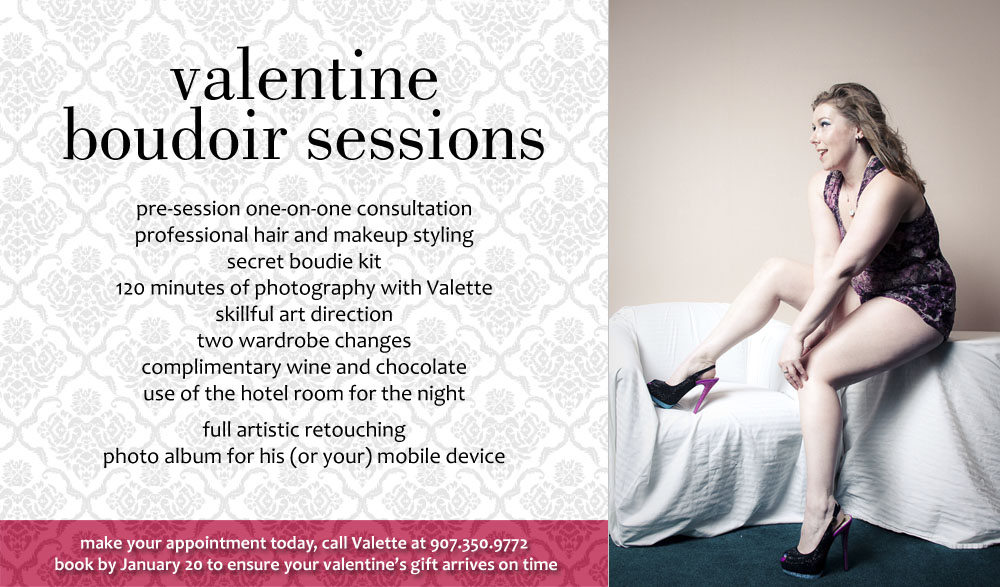 Call me at 907.350.9772 to book your boudoir session by January 20 and ensure you get your sexy products in time for Valentine's Day. But don't wait, I only have 4 appointment slots available.
Tomorrow I will be talking about emphasizing your breasts, no matter their shape and size. Get on the list (on the left side of this post) to make sure you don't miss it!