Hello gorgeous!
Are you thinking about Valentine's Day yet? This time of year is all about love and reminding that special someone in your life how much you care about them. Surprise them this year with a boudoir session that is sure to take their breath away.
An important part of preparing for your boudoir session is selecting pieces that make you feel sexy, fit perfectly, and boost your confidence.
Over the next week I will be sharing some tips to help you highlight your assets, no matter your body type.
When gathering outfits for your boudoir session, select pieces that reflect your style:
Are you soft and romantic?
A bit of a wild thing?
Or a classic type?
What about a glam girl?
Are you colorful?
Or maybe more casual?
Pieces reflecting your style will help your unique and sexy personality shine through in all of your boudoir images.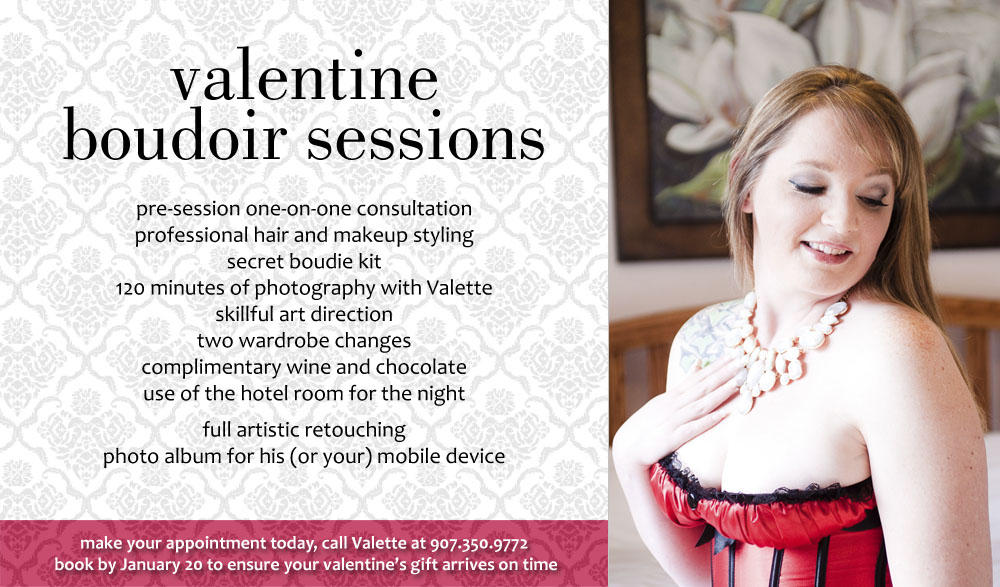 Call me at 907.350.9772 to book your boudoir session by January 20 and ensure you get your sexy products in time for Valentine's Day. But don't wait, I only have 4 appointment slots available.
Tomorrow I will be talking about highlighting your sexy legs. Get on the list (look to your left) to make sure you don't miss it!