This is long, but it's important. A well-fitting bra can make a huge impact on your confidence and appearance. It certainly did for me — I had lost quite a bit of weight and was wearing a 38C when I got fitted about seven years ago. I was amazed to learn that I was a 34F; in my mind, any cup size over D was comically huge and I was just a Normal Boob Size.
But when I tried on a bra in the new size, I couldn't believe the difference. I was supported! I had a waist! I felt so comfortable! No boob spillage over the top or sides! The underwire sat flat against my chest! I didn't even know that was possible, and now I am a Bra Fitting Evangelist.
It's challenging to find a well-fitted bra. Victoria's Secret, WalMart, Aerie and other big box stores carry limited size ranges, and they try to put you into one of their B-C-D-range cups to make a sale even when you don't fit in those sizes. If that's where you shop for bras, you're likely wearing the wrong size.
How can you tell if your bra doesn't fit?
The back of the bra rides up in an upside down U shape;
The band of your bra is loose enough that you can snap it;
The straps dig into your shoulders;
The underwire pokes you in the side;
Your breast is spilling out of the tops, creating that quad-boob look;
The bridge between the cups doesn't sit flat against your chest;
You are constantly readjusting your bra cup or straps during the day;
You have shoulder/back pain from the heaviness of your breasts.
These are signs of a too-loose band and too-small cups and unhappy breasts. The band should be tight enough to support your breasts without the straps, and the cups should be large enough to fully encircle all of your breast tissue, and for most women, that means it should finish underneath your armpit.
The Bra Database has a gallery that shows what a well-fitting bra looks like in many different sizes on many different people. Here is the page for a size 36C: bands are straight and parallel to the ground, the straps aren't digging into shoulders, and the underwire sits flat against the sternum and under the armpits. If your bra doesn't look like this, then you are not a 36C.

Chantelle C Essential T-Shirt Bra, ultra nude, 32C-40G $43-58
Chantelle Basic Invisible T-Shirt Bra, toffee, 32B-40G, $51-69
The best way to determine what size you should really be wearing is to try on a ton of bras. And I mean a lot of bras; all of the bras. The best place in Alaska to do this is at Nordstrom: ask an associate for a bra fitting.
What to expect from a bra fitting
A bra fitting is a no-nonsense activity. The associates at Nordstrom are professionals, have a lot of knowledge about bras, and will help put you at ease during the process.
An associate will check the size of your current bra, do an initial measurement with a tape measurer, and bring you a few Fit Bras. Because everyone's breast shape is different, you can't always depend on a tape measure for your perfect fit.
The fit bras will not be your style, in fact they will probably be ugly, but they are not the ones you will take home. You will try on the fit bras to help determine your size, chat with the associate about what kind of bra you are looking for (lacy? foam molded? full coverage? pushup? tshirt?), and she will bring you every bra in the store that meets your criteria and is in your size.
It will be a lot of bras. All of the bras.
Don't be overwhelmed! Try them on one at a time, and put your shirt back on over every single one of them. If your new size is a smaller band and larger cups, you will notice that the new bras are a lot tighter than your old bras. This is a good thing, because it means the band is supporting the weight of your breasts, which will eliminate shoulder and back pain.
With your shirt on over the new bra, check yourself out in the mirror. You will look perkier and skinnier than you expected. Does the shape look good? Is the cut ok? Sizes vary in lingerie just like they do in other clothes; not all 34D bras will fit the same, and that's ok – you have more to try on. Your associate will check back with you periodically, so ask her questions if you're having problems with or questions about a bra fit.
Once you find a bra or two (or four) with an excellent fit, congratulations! Your bra world has just been changed forever!
You can either buy the bras on the spot, or make note of the brand, style and size to purchase online later. Nordstrom does not require you buy anything because you had a fitting, so do not feel pressured to buy a bra then and there.
Once you've got a size in a particular brand, you can reasonably confidently keep buying that same size in that brand from then on. You might get a little variety, especially between styles, but it's a perfect starting point.
Consider getting re-fitted about once a year, or when your breast size or shape changes – this can be due to weight gain or loss, pregnancy, starting or stopping birth control, or any time you notice your breast tissue is not fully covered by your current bras.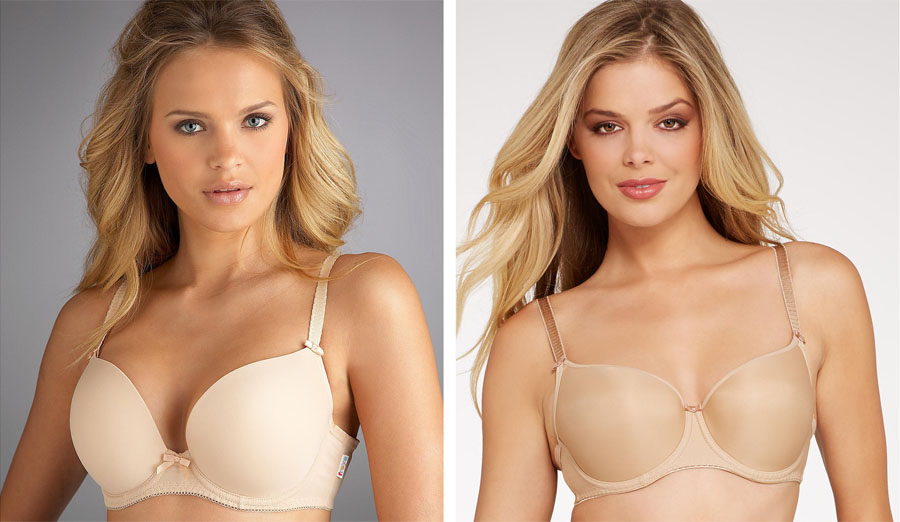 Freya Deco Plunge T-Shirt Bra, nude, 28C-38GG, $60
Fantasie Smoothing Balcony T-Shirt Bra, nude, 30C-40H, $60
If you can't get to Nordstrom
You can do a similar fitting yourself in the privacy of your own home with the power of the internet.
If you currently wear a 36C and noticed that your band is too large and your cups are too small, order a variety of full cup bras in a few different sizes: 32DD, 32D, 34D, 34DD. I recommend the brands Freya, Wacoal, Chantelle and Fantasie for a reliable fit, great quality and good value. Then try on all of those bras until you get excellent support from your band, a nice flat bridge in the center, and cups that fit all of your breast tissue.
A good quality bra should last you around 6-8 months, even a year if you have a good rotation. No more back pain, shoulder dents, quad-boob, poking underwires, or falling out the bottom.
Your comfort, posture, and overall breast health is worth it.