Your boudoir session is a celebration of confidence, silliness and everything that makes you feel gorgeous, and will give you images that you (and he) will treasure for years.
An important part of preparing for your boudoir session is selecting pieces that make you feel sexy, fit perfectly, and boost your confidence. Yesterday I talked about emphasizing your breasts. If you missed it, make sure to check it out on the blog.
Today I want to talk about the best way to accentuate your booty and hips during your boudoir session.
Select panties with eye-catching details such as ruching, lace, or sheer fabric. A little wedge helps shape your rear during the session. Thongs can be incredibly sexy and provide more shape and detail than g-strings.
Tops and wraps that hit right at the widest part of your hips or a little longer are perfect for showing off a peak of your panties and curve of your hips when standing, kneeling or lying down during your session.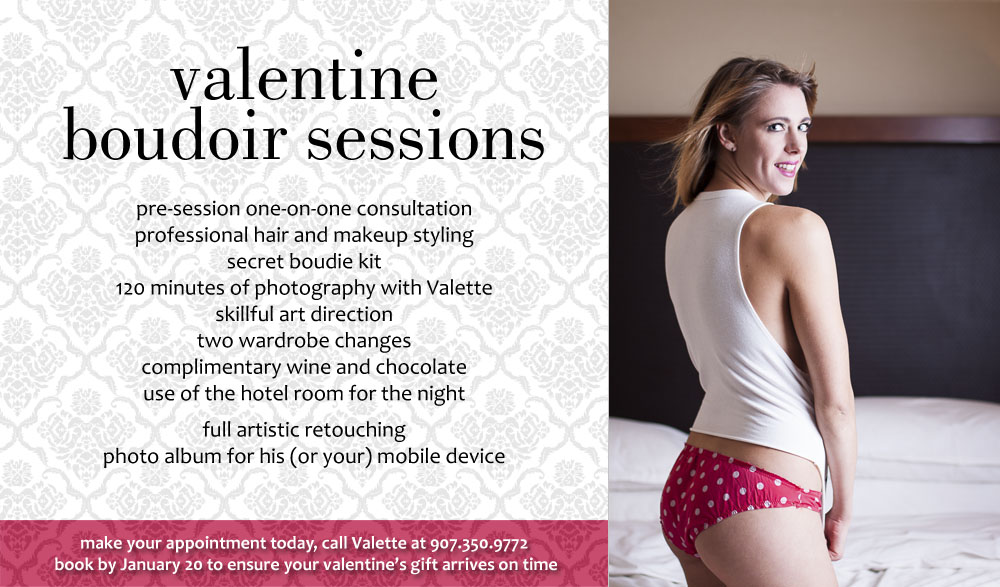 Call me at 907.350.9772 to book your boudoir session by January 20 and ensure you get your sexy products in time for Valentine's Day. But don't wait, I only have a few appointment slots available.
Next time I will be talking about maximizing your neck and waistline. Get on the list (in the left margin) to make sure you don't miss it!